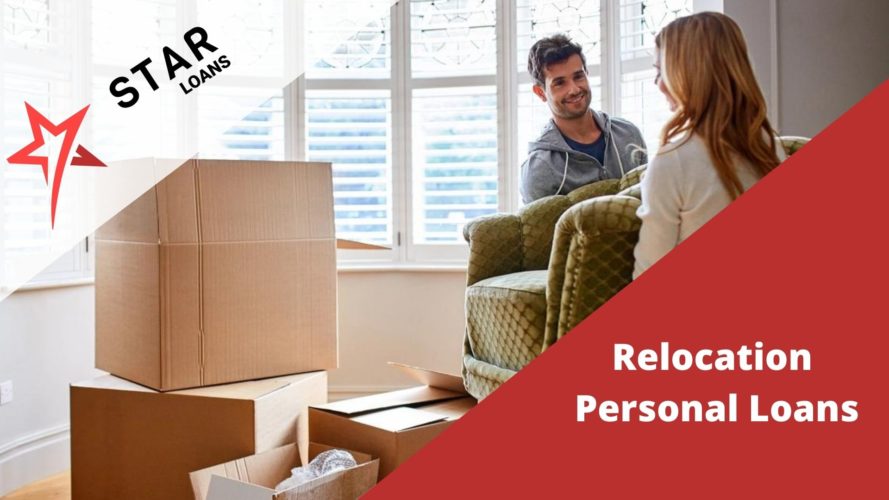 The cost of a loan will depend on factors such as interest rate, debt repayment terms, additional commissions and payments. Most often, APRs range from 4.95% to 35.99%.
Relocation Loans
From time to time, some people realize that their place of living does not correspond to their desires and needs. While some people move to a larger home due to a new addition to their family, others prefer to move to a safer place. Also, some people have to move for work, or to take care of their parents and relatives. Thus, each person has their own reason why they move, but not everyone can cover the cost of moving on their own.
If you're planning a move but don't know how to manage your expenses, a Relocation Loan is an option you should consider. Keep reading to find out the details.
What Is A Relocation Loan?
A Relocation Loan is a type of Personal Loan that is used to cover any relocation expenses. Whether you are moving from one state to another, or from one house to another, this loan will be a great option for you.
Most of the time, Relocation Loans are unsecured, which means you don't have to provide any collateral to get your application approved. These loans are repaid in regular monthly installments over a fixed period of time. Most often, repayment terms range from 12 to 60 months, however, if necessary, you can find longer terms. Since most personal lenders do not have any restrictions, you can use the money received to meet any personal expenses.
How Much Can I Get With a Relocation Loan?
As already mentioned, a Relocation Loan is a type of Personal Loan. Most often, personal lenders offer from $1,000 to $100,000 for any needs of the borrower. This way you will be able to get enough money to cover the cost of moving.
Important! Find out exactly how much money you need and apply for that exact amount. The less money you borrow, the less interest you will have to pay on the loan.
Requirements To Receive Relocation Loans
Most often, the eligibility criteria for Relocation Loans are the same as for Personal Loans. Although they may vary depending on your state of residence and the lender you choose, the main ones remain the same:
Age. First and foremost, you must be at least 18 years of age or older to be able to apply.
Citizenship. You must be a US citizen or official resident.
Income. You will need to provide proof of regular monthly sources of income.
Bank account. To receive a deposit, you will need to provide an active bank account.
Social Security number. Also, more often than not, the lender will ask for your social security number in order to approve your application.
ID confirmation. You can provide government-issued ID, driver's license or passport.
Contact details. To contact you, the lender will ask you to provide your phone number and e-mail.
If you meet the above criteria, then it is likely that your application for a Relocation Loan will be approved and you will earn money to cover all the costs of moving.
How Much Does A Relocation Loan Cost?
The loan amount will vary depending on a large number of factors such as the interest rate, additional fees and charges, your salary, credit score, and so on. Most often, interest rates range from 4.95% to 35.99%.
Important! Some personal lenders also charge fees such as early repayment fees, late payment fees, origination fees, and so on. So, explore the different options to select a lender with the minimum number of extra payments.
Bad Credit Relocation Loans
More often than not, borrowers with poor or bad credit find that the only loan available to them is Payday Loan. However, most often they are also eligible for Relocation Loans.
In order to select the most suitable offer, you should compare options from different lenders in your state of residence. It is also recommended to pre-qualify in order to understand what potential interest rates and lending conditions you can get.
How Can I Get Relocation Loans?
Now getting a Relocation Loan has become as easy as possible as more and more lenders offer online financing. Thus, you no longer have to stand in line for hours, wait for approval and fill out a large amount of paperwork. Below you can learn the basic steps to get a Relocation Loan as quickly as possible:
Choice of a lender. In order to choose the best deals, you need to explore the various options in your state of residence. Pay attention to interest rates, credit conditions, loan amount, as well as additional commissions and payments.
Application. After you choose a lender, you will need to fill out a simple and convenient online application. You can do this both in the lender's store and online. If you want to get a loan as quickly as possible, then an online application will be the best option for you. Visit the selected lender's website and provide the required information about yourself, such as name, address, income, etc.
Approval. After you submit your application, the lender will take some time to review it. Most applications are approved within one to two days. Next, the lender will contact you in order to discuss the terms of the loan and debt repayment.
Financing. You will need to carefully study the contract before you sign it. Make sure you can really pay off your debt on time with interest. After signing the contract, the loan amount will be transferred directly to your bank account, after which you will be able to dispose of the money as you wish.
The Bottom Line
So, as you can see, a Relocation Loan can be a great option to help borrowers pay for relocation costs. However, you must compare interest rates and additional payments in order to choose the best deal for you