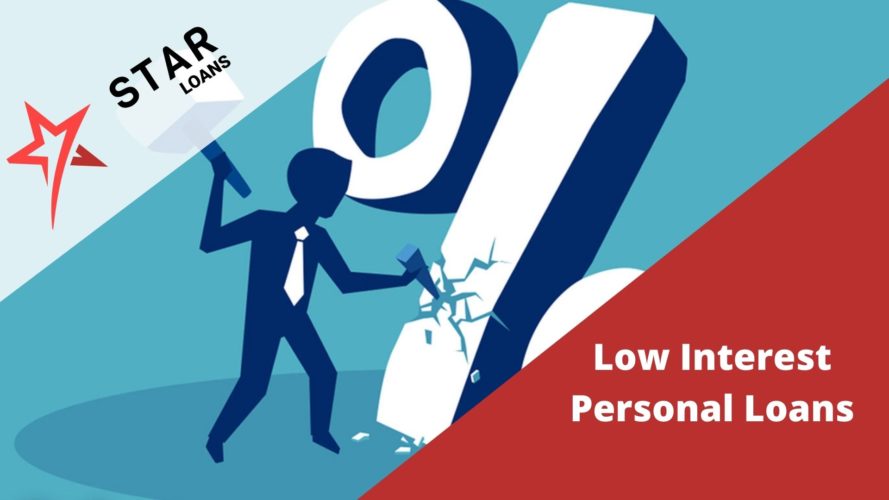 The main factors influencing your interest rate will be your credit history and loan repayment period. Thus, borrowers with good credit and short repayment periods will be able to get a Personal Loan with the lowest interest rates.
Low Interest Personal Loan
Since life is unpredictable, many people need additional funding from time to time in order to cope with personal needs. This can be anything from an unexpected parking fine, to car or home repairs, medical treatment, or an emergency purchase. However, unfortunately, most Americans cannot cover their personal needs on their own, so most often they look for alternative sources of funding in order to get money. The easiest way to manage personal expenses is to apply for a Personal Loan. However, is it possible to find profitable offers with low interest rates? Keep reading on to find out the details.
What Is A Personal Loan?
A Personal Loan is a short-term type of financing that a consumer can get from a bank, credit union, online lender, and so on. The borrower can use the funds received for almost any purpose, such as consolidating existing debt, renovating a house or car, paying wedding expenses, and more.
It is important to note that a Personal Loan is a type of Installment Loan, which means that the debt will be repaid in regular monthly payments over a fixed period of time. Most often, the repayment period of a Personal Loan varies from 24 to 60 months. It is also worth noting that most often Personal Loans are unsecured, which means that the borrower does not need to provide collateral in order for his application to be approved. Thus, a Personal Loan can be an excellent option for obtaining fast financing for any personal needs.
Why Do People Apply For Personal Loans?
Each borrower has his own reasons why he applies for a Personal Loan. Since this loan has practically no restrictions, borrowers can dispose money received at their discretion.
While some people apply for funding to deal with emergency needs such as rent, urgent medical treatment, and more, others receive Personal Loans to pay for honeymoons, major purchases, and other needs.
How Do I Find a Low Interest Personal Loan?
Getting the best loan offer can be tricky, as researching the different options can take a huge amount of time. Below you can pay attention to a few key points that will directly affect your interest rate and the total loan amount that you will be tedious to repay:
Your credit score. It's no secret that a good credit history is the main factor influencing the approval of an application. Thus, borrowers with good or excellent credit will receive favorable loan offers with the lowest interest rate. Conversely, borrowers who have already missed payments and have bad credit are more likely to face high interest rates.
Debt repayment period. Also, you should be aware that the term of debt repayment will also affect how much interest you pay. The shorter the debt repayment period, the higher your monthly payments. However, at the same time, you will pay a smaller amount as interest overall. Borrowers who have longer loan repayment periods will have low monthly payments, however they will pay much more in interest in the end.
Additional fees and commissions. It is also worth noting that some lenders charge additional fees and comissions, such as early repayment fee, application fee, late payment fee and others, which will also affect the amount of your loan.
Can I Get Low Interest Personal Loan With Bad Credit?
Lenders understand that almost any borrower can find themselves in a difficult life situation and need financing for personal needs. This is why personal lenders provide loans for various types of credit. Even if you have missed payments in the past and have a bad credit history, you can still apply and get approved.
However, it is worth noting that if you have a bad or poor credit history, you most likely will not be able to get a Personal Loan with low interest. However, to reduce your interest rate, you can apply for a secured or co-signed loan.
Eligibility Criteria For A Low Interest Personal Loan
More often than not, personal lenders do not have many eligibility criteria that must be met in order to be approved. That is why getting this loan is quite simple. Learn the main ones and make sure you fit:
Be at least 18 years of age or older
Be a US citizen or official resident
Have a regular monthly source of income
Provide government-issued ID
Provide a social security number
Provide contact details such as phone and e-mail
How Can I Get a Personal Loan With Low Interest?
Now, in order to get financing, you no longer need to visit the nearest location of the lender, as most personal lenders offer online lending. Learn a few simple steps and fill out the form for a Personal Loan sitting on your own sofa:
Application. After choosing the most suitable lender for you, you need to visit his website and fill out a simple online application. Provide the required information about yourself, make sure it is correct, and then submit the form.
Approval. If you had studied state laws and eligibility criteria in advance, then your application would be approved within one day. The lender will then contact you to discuss the details.
Financing. After you sign the contract, you will be able to receive the money directly into your bank account and dispose of it as you wish.